Amerex, Synapse partner at Internet of Things expo
November 15, 2016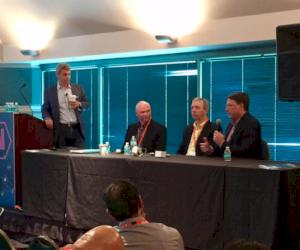 (Pictured left to right: Moderator, Chris Cain, Readwrite.com; Vic Modic, VP Manufacturing. Amerex; Bill Cumings, President, Plexus Controls; and Johnny Thorington, CTO, Synapse)
McWane is looking to the future and exploring ways to mesh its manufacturing and technology worlds. A great opportunity came last month at the IoT Tech Expo North America 2016 in Santa Clara, California. The IoT Tech Expo brought together key industries from across America for two days  of top level content and discussion. It introduced and explored the latest innovations within the Internet of Things and covered manufacturing, transportation, health, logistics, government, energy and automotive.

One of the most popular panel discussions was "IoT -  Creating the Industry 4.0 Smart Factory of the Future," which featured Vic Modic from Amerex and Johnny Thorington from Synapse. Amerex is an industry leader in adopting IoT technology in areas of preventive maintenance, lighting, temperature monitoring, inventory control, and bearing/vibration monitoring.

Congratulations to Vic and Johnny.