Atlantic States Hosts Second Annual Team Deep Sea Fishing Trip
August 26, 2013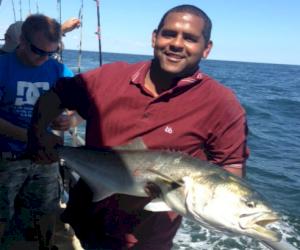 (Pictured: Atlantic States Team Member Ramundo Perez showing off his catch of the day)
On Saturday, August 24, Atlantic States hosted the Second Annual Team Deep Sea Fishing Trip in Belmar, New Jersey.  This year the team went out on the boat named Miss Belmar Princess.
It was slow going at first, but it gradually picked up and the fish started hitting the lines.  Big Blues were the primary catch of the day with the biggest one weighing in at a whopping 14 pounds!
It was a great opportunity for the team to network and get to know each other better.