Clow Canada Medicine Hat Distribution Center Holds Rededication to Safety Day
June 29, 2015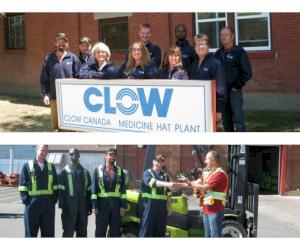 On Monday, June 22, 2015 Clow Canada's Medicine Hat Distribution Center held a Rededication to Safety event.  Lunch was bought in for the entire team and they listened to the song "Everyone Goes Home from Here" by our very own Andy Boise.  After lunch they watched a message from McWane President Ruffner and a video on the dangers of texting while driving.  Team Member Lorne Rissling also read a letter entitled The Day I Cut a Man in Half.
Coralaine Gardner from Police Point Interpretative Program gave a very informative talk and answered questions about the different snakes in Medicine Hat.  So far this year they have found three snakes on the yard.  Yikes!  A peer safety and ergonomics review was also completed by the entire group on various work stations and they identified areas in each of the work stations that could be improved.
Carbon monoxide testing was performed all of the forklifts and we are proud to report that all of the levels were well within the acceptable range.  For fun, they held a forklift skills competition.  The competition was based on driving skills, safety procedures and time.  This competition was a reminder of basic safety practices that should be used at all times and was also a teaching experience for the administrative staff.   The judges concluded that Dave Denney was the top driver and he was presented a miniature forklift award.