Kennedy Valves Holds Annual Team Picnic
September 16, 2013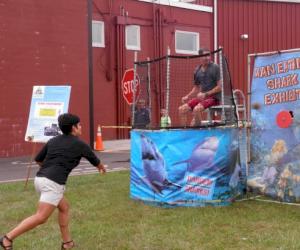 Kennedy Valve held an open house on September 7 to kick off their annual team picnic with a guided tour of the facility which was open to the public. That afternoon over 500 team members and their families attended the festivities which included music, food, games, inflatables and giveaways throughout the day.   A 50/50 raffle was also held which was split between one team member and the local animal shelter.
Kennedy Valve Plant Manager Jack McPike volunteered for the dunk tank and his wife couldn't pass up on a chance to knock him off his perch. In case you're wondering, she did knock him in the water. Proceeds from the dunk tank were donated to Friends of the Chemung River Watershed.
A good time was had by all and they are already looking forward to next year's picnic.