Marshfield, Massachusetts upgrades water mains throughout the city to ductile iron
February 1, 2016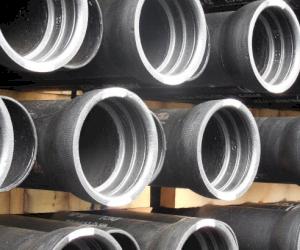 Did you know that much of the  nation's drinking water infrastructure in nearing the end of its useful life?  The city of Marshfield, Massachusetts recently took steps to remedy the problem as reported by the Ductile Iron Pipe Research Association (DIPRA) in the following article that appeared on their website.  
Marshfield, MA Tackles Plastic Water Main BreaksMarshfield, MA – Plastic water main breaks this month caused in part by cold weather and damage from rocky soil were headaches for Marshfield's Department of Public Works.  The blue plastic pipes were only installed in the 1980s."Those blue pipes are most effective in sandy areas, like Cape Code, but not rocky Marshfield," (DPW Superintendent Shawn) Patterson said.  "Rocks in the soil can chafe at the pipe, weakening it."In comparison, Ductile Iron's superior strength resists damage and is not affected by typical variations of temperature change.  While PVC/plastic pipes become more brittle in colder temperatures and weather in higher temperatures, Ductile Iron Pipe continues to deliver the same reliable service."The water department is working to replace its plastic pipes with Ductile Iron, which is good for any environment," [Patterson] said.  Spring Street is also in rough shape, but he said the DPW wouldn't want to re-pave the road until the new pipe is installed.  Marshfield is currently in the process of upgrading the water mains throughout the city to Ductile Iron, as part of a five-year plan.
http://www.dipra.org/news-events/news/149-marshfield-ma-tackles-plastic-water-main-breaks
Over the next decade, the McWane family of companies will have the opportunity to be a major contributor in replacing the nation's aging water infrastructure.  We are definitely up to the job!