McWane India holds Hackathon
January 11, 2017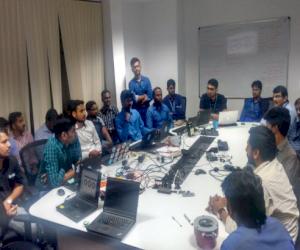 McWane India (MIPL) has followed Synapse's lead and held an innovative event called a hackathon.  A hackathon provides an opportunity for MIPL engineers involved in electronics, software development, mechanical design and project management to collaborate on new and innovative projects.  It also provides a venue for self-expression and creativity through technology.  

MIPL holds the event over a span of two days every quarter.  At the end of the event projects are evaluated for novelty, creativity and commercial value.  Through this event they are able to create intellectual property and file for patents as well as stimulate new product development. 

The first MIPL hackathon was held last December and the winning team was from the Mechanical Design Group for a new gripping device (joint restraint).  Other notable projects included Retail Domain, a shopping pattern monitor, a network bridging system for Synapse networks, an air quality monitoring extension built on top of the AquaMesh product, and an extension on SimplySNAP for Synapse Lighting. 

Can't wait to see what they come up with next.