MIPL celebrates National Safety Week
March 19, 2019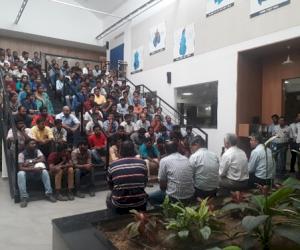 McWane India Private Limited (MIPL) team members refocus on the importance of workplace safety every year during National Safety Week (March 4-8). They start the week by raising a safety flag and presentations by managers and shop floor personnel about the importance of working safe at all times. They even have a safety themed street play, vehicle emissions camp, first aid training, ergonomic safety training, eye and dental camp and safety week pledge.

The vehicle emissions camp ensures that vehicle emissions are well within the legal limit and not creating an adverse effect on the environment. This year they tested approximately 97 vehicles. Over 175 team members also attended the eye and dental camp. Team members competed for prizes in a safety quiz, safety slogan and drawing contests and a safety themed street play.

The week ended with an interactive session with MIPL CEO Prakash Jonnalagadda about the role the MIPL team members play in creating a safe working environment for the entire team.