Neighbors Helping Neighbors in Tyler, Texas
May 20, 2015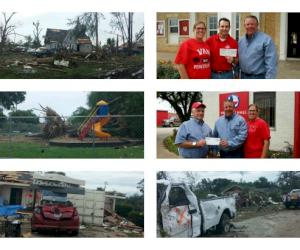 At approximately 9:30 p.m. on May 10, an EF 3 tornado touched down in Van, Texas, with sustained winds in excess of 140 mph leaving a wake of destruction unparalleled in this area. The tornado was 700 yards wide and swept through the community of 2,600, leveling houses and businesses and destroying the elementary and intermediate school along the way. Van is located 24 miles northeast of Tyler Pipe and 5 Tyler team members live in Van. Thankfully, none of our team members were hurt, but they did sustain substantial damage, and as Tyler Assistant General Manager Greg Simmons always says, "If the team hurts, then we all hurt."
The Red Cross, Salvation Army, numerous churches and hundreds of volunteers were already doing everything they could do to get the people back on their feet, and Tyler Pipe was determined to also help - so help they did! They wrote a check for $5,000 to the City of Van to assist in the recovery efforts. The check was presented to the Mayor of Van by Tyler Maintenance Superintendent and longtime Van resident Scott McCarty.
Two of the three schools in Van were damaged beyond repair along with the VISD Administrative building and transportation facility including the buses. So Tyler Pipe wrote a second check for $5,000 to Van ISD to assist in rebuilding the school system. Scott's wife, Kathy McCarty is a school teacher in Van, so they felt it would be appropriate for her to present the check to the VISD Superintendent.
They were extremely appreciative of the financial assistance from Tyler Pipe as well the help that is pouring in from surrounding areas. It's nice to know that when the chips are down, you are a part of a team that will be there to help.