Pacific States Donates $10,000 to American Cancer Society Relay for Life
June 24, 2013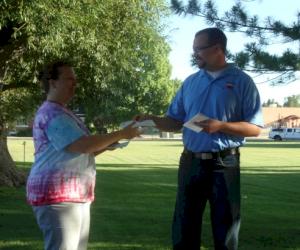 Pacific States Team Member Davy Crockett presents check to Event Chair Lorene Moore
The annual American Cancer Society's Relay for Life Race is a special event for everyone at Pac States because they walk in honor of their good friend and former General Manager John Balian. This year Assistant Purchasing Manager Davy Crockett organized a golf tournament that was held in May to raise funds for the Pac States Relay team.
Davy was proud to present a check for $10,000 to Event Chair Lorene Moore who was truly excited and somewhat overwhelmed to receive such a large donation. The race is scheduled for next week and so far approximately 50 team members have signed up to walk the track as a part of the Pac States relay team.
This is the second year that Pac States has participated in this event and one that they look forward to every year.