Pacific States Relay for Life Team Walks in Honor of John Balian
July 2, 2013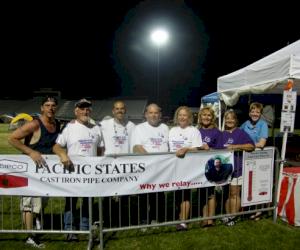 (Pictured from L-R: Dave Johnson, Marion Terry, Brad Olson, Gary Wood, Robin Galbraith, Karen Tuckett, Meloney Stevens and Jessica Stones)
Like several other McWane facilities, Pacific States had a Relay for Life team this year that walked in support of the American Cancer Society.  It was a hot and windy day, but everyone had a wonderful time.  The team raised $15,631.36 for the American Cancer Society this year.
The team was walking in honor of Pacific States General Manager and dear friend John Balian and his wife Terry and her two daughters came out to support the team.
These events remind us all that each and every day is a gift!