Solberg Honored with Chamber Environmental Stewardship Award
August 12, 2013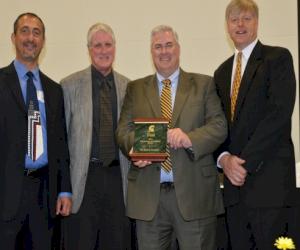 (Pictured from L-R: Greg Runnoe-SMET Construction, Steve Hansen, Dave Pelson and Dennis Kennedy of Solberg)
Solberg, the firefighting foam products division of Amerex Corporation recently received an Environmental Stewardship Award from the Green Bay Area Chamber of Commerce at the annual Business Recognition Luncheon held on June 6 at the KI Convention Center.
More than 450 people attended the event which honors individuals and companies that have left their mark in the following categories: Environmental Stewardship, Cornerstone, Entrepreneurial, Growth, Family-Friendly Workplace, Special Accomplishment and Business Person of the Year.
This year's theme was "Planting the Seeds of Success" which recognized six area businesses and an individual as business person of the year. Solberg was honored with the Environmental Stewardship Award presented to a company in business 2-5 years that demonstrates a creative approach, proven success and positive impact on the community through taking actions to become more environmentally friendly or has invented or distributed products to assist other companies in becoming more environmentally friendly.
Congratulations to team Solberg!