There is nothing like a good ole fashioned Tyler Pipe Cookout
June 9, 2016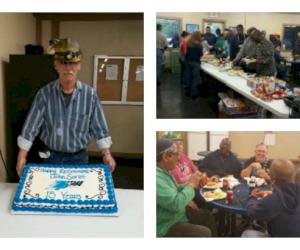 One of Tyler's finest John Surlet (Production Manager) decided it was time for him to retire and he wanted his last day at Tyler to be the day of the annual cookout.  So after 15 years at Tyler Pipe, John is moving on to greener pastures, which for John is in Chandler, Texas around Lake Palestine.  He just bought a new motor for his barge where he will be spending lots of time just watching the world go by. 
John is passionate about several of his hobbies and plans to spend lots of time fishing, shooting pool and building sweet, top quality smokers.  John has been making smokers in his home shop for years and he dropped by the HR Department before he left wearing a t-shirt that had Surlet Smokers on the back.  They say if you do what you love then you can never call it work.  So if you're in the market for a quality homebuilt smoker, give John a call. 
We wish John and long and happy retirement.