Tyler Pipe Joins Literacy Council of Tyler for 24th Annual Spelling Bee
August 24, 2015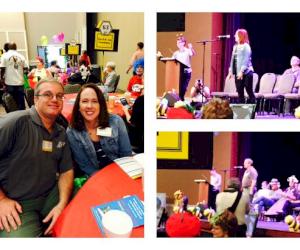 The Tyler Pipe team always looks forward to the Literary Council's annual spelling bee. The Literacy Council of Tyler was founded in 1990 and initially provided basic adult literacy programs, but quickly expanded to offer English as a second language programs as well as basic education, GED and ESL classes, all at no cost to the learners.  Unfortunately, according to recent facts and figures, 51 percent of adults in East Texas are functionally illiterate and organizations like the Literary Council are vital to reversing that staggering statistic.
This year's event was held at the Green Acres Baptist Church Crosswalk Conference Center and had over 500 participants including Tyler Pipe team members Jennie Shephard (Safety) and Heath Huffstetter (Accounting).  These two grammatical geniuses made it past the initial round which usually drops about half of the competition and finished up in fifth place!  They were joined by fellow team members Penny Carman, Greg Buckner and Gwen Jackson who were there to cheer them on.  As you can imagine, spelling in front of a crowd of 500 would be nerve racking.
We are pleased to report that this year's Spelling Bee raised over $65,000. Congratulations to Jennie and Heath for coming in fifth place!