Tyler Pipe Relay for Life Team Races for a Cure
May 4, 2015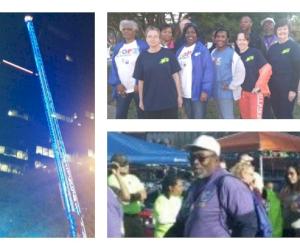 The American Cancer Society's (ACS) Relay for Life is the world's largest and most impactful fundraising event and once again Tyler Pipe was there to support the event.  On Saturday, April 10, a small group of Tyler team members took time out of their busy schedules to race for a cure.
For the first time the ACS of Smith County held the event at Tyler's Downtown Square and the evening was jam packed with games, music, lots of food and loads of fun.  One of the more memorable events of the evening was the Stairway to Heaven.  A fire truck, provided by the Tyler Fire Department, raised a ladder adorned with neon lights as high as it would go with the song Purple Rain playing in the background to honor those who had lost their battle with cancer.  It was a beautiful sight and a very touching moment.
Another first this year was the absence of fellow team member John Gardner who lost his battle with cancer last year, which makes this event even more important for team members.  Tyler Pipe hopes to continue the Relay for Life tradition for years to come.