Which national park is the least visited in the nation?
August 6, 2018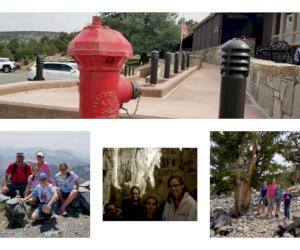 If you guessed the Great Basin National Park you guessed right. While visiting the Great Basin National Park in White Pine County, Nevada last weekend, McWane Ductile Sales Representative Aaron Loosli and his family spotted an old Pacific States hydrant right outside the visitor's center. The park, which is in the middle of nowhere, is one of the least visited national parks in the nation; but parkgoers who make the trip can enjoy the best visibility of the Milky Way in the Continental United States.

Aaron said, "It is known for the Lehman Caves (which were awesome); having one of the darkest night skies in the country for great stargazing (it was overcast and raining the night we were there); and the oldest living things on the planet including the Bristlecone Pine trees, some of which are over 5,000 years old!

It's cool to see a piece of Pacific States history still in service protecting this hidden gem of a place.