Working together to make a safer workplace at McWane Ductile-New Jersey (MDNJ)
June 10, 2015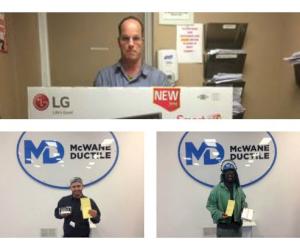 (Pictured top: Randy Russell; bottom L-R: Glenn Kelley and Dennis Schlichtng, Jr.)
As part of the McWane EHS/Awareness month, MDNJ team members were asked to submit suggestions on how they could make the facility a safer place to work.  Everyone that submitted a suggestion was eligible to win a prize.
We received 25 suggestions and three team members walked away with some pretty nice prizes.  Randy Russell won a flat screen television, Glenn Kelley won an I-Pad and Dennis Schlichting, Jr. won an I-Pod.
Team members are encouraged to continue making suggestions throughout the month of June for another drawing for an I-Pad to be held at the end of the month.  Thanks to those team members that made suggestions.  We'll be implementing those suggestions throughout the facility.