Amerex Invited to Buckingham Palace
July 29, 2013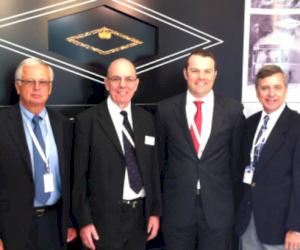 (Pictured from L-R: Bill Beyer, Steve Evans Sr., Steve Evans Jr., and Andy Halasz at the Amerex Fire International booth in London, England)
By special Invitation of Her Majesty, Queen Elizabeth, Amerex Fire International (Amerex U.K.) was invited to attend the Queen's Coronation Festival held in the gardens of Buckingham Palace. This invitation was extended only to those companies that hold the "Royal Warrant".  Royal Warrant holders are companies that supply goods and services to the Royal Family.
This is considered an honor and to celebrate the event vendors are asked to display their goods.  Amerex U.K. obtained the Royal Warrant several years ago, and provides Amerex fire extinguishers to Buckingham Palace and Windsor Castle. This is the only time this event was held, and the Queen, along with Price Charles, Princess Anne, and several other royal dignitaries ventured the grounds throughout the day.
Amerex is proud and honored to be a part of this celebration.  Congratulations to the Amerex U.K. team for this prestigious honor!