And the Winners of the June 2015 EHS/HR Awareness Post Contest Are . . .
July 20, 2015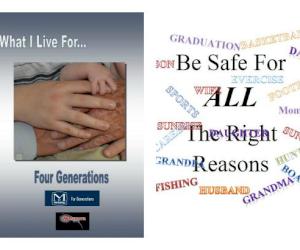 We are proud to announce that the following team members were winners in the June 2015 EHS/HR Awareness Poster Contest:
Daniel Silva (Maintenance Machinists, AB&I Foundry)
Austin Milster (Quality Engineer, Amerex)
Olga Quintana (Clamping Department, Anaco)
Dan Ouellette (Safety, Clow Canada)
Jack McPike (Assistant General Manager, Kennedy Valve) – pictured right
Abreonia Webster (Human Resources, McWane Corporate)
Mickie Coggin (Public Relations, McWane Corporate)
Karen Tuckett (Safety, McWane Ductile-Utah)
Nick Zaberdac (Safety, Manchester Tank, Bedford Indiana)
Angela Lewis (Environmental, Manchester Tank, Crossville, Tennessee)
Joyce Klingele (Customer Service, Manchester Tank, Quincy, Illinois)
Tim Graham (Safety, Tyler Coupling)
Michael Harden (Flange Shop Utility, Tyler Union Foundry)
BEST OVERALL POSTER (pictured left):
Donna Ferguson (Administrative Assistant, Manchester Tank Quincy, Illinois)
The theme of the poster was "What I Live For" and only one entry could be submitted by each team members.  We had great participation with 32 submissions from 11 different facilities.  Amerex had the largest number of entries with 8.  The Executive Steering Committee judged the contest and selected one winner entry per facility to receive a $100 prize.
Congratulations to all of the winners for their incredibly moving posters that remind us all why we work safely and in respect of our environment each and every day.