Announcing the winners of the 2016 McWane Pollution Prevention Contest (P2C)
November 10, 2016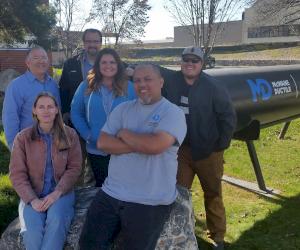 (Pictured: 1st Place Team - back row left to right: Louis Shell, Davy Crockett, Afton Whiting, Roland Irvin; front row left to right: Holly Hurst, Rick Strickland)
We are pleased to announce the following winners of the 2016 McWane P2C Contest:

1st Place ($1,000 per team member) – McWane Ductile Utah - Refractory Consolidation and Controls
2nd Place ($500 per team member) – McWane Ductile Ohio – Reduction of Casting Trough Coating
3rd Place ($250 per team member) – Kennedy Valve – Core Oven Heat Curtains

The Why Didn't I Think of That Award is presented for projects that are innovative, simple and low cost solutions that produce relatively small but important environmental benefits.  This year's winners are:

Amerex – Reduction of Waste Caused by Spent Rugs
McWane Ductile Utah – Cupola Spout Refractory Conservation
Clow Canada – D67M Elbow Casting Material Reduction

We set a new record for P2C project entries this year with 26 teams from AB&I, Anaco/Corona, Amerex, Fonderie Laperle, Bibby Ste. Croix, Clow Canada, Clow Valve, Kennedy Valve, McWane Ductile New Jersey, McWane Ductile Ohio, McWane Ductile Utah, McWane Poles Ohio, Tyler Coupling, Tyler Pipe and Tyler Xianxian submitting 55 initial entries which exceeds the previous record of 44. These projects were then judged by three independent judges (Kristen Belcredi/Keramida, Dan Oman/Haley and Aldrich, and Mark Curran/TRC) who evaluated the written submittals and selected 11 finalists.  These 11 finalists presented their projects on November 10 and the judges narrowed them down to the top three projects. 

The judges were very impressed by the innovative ideas, presentations and the keen interest and passion shown by the participating team members from the production, maintenance, engineering, purchasing and environmental departments at the various McWane facilities. We hope to see a continued high level of interest in pollution prevention at all McWane facilities going forward.  Thanks to everyone who participated in this year's contest.  We appreciate your continued support of McWane's EHS programs.

Congratulations to this year's winners and also to all of the teams that submitted a project. You achieved some form of success in preventing pollution at your facility that will subsequently benefit the environment and save your facility money from the start and into the future.