Announcing the winners of the 2017 McWane Scholarship
May 9, 2017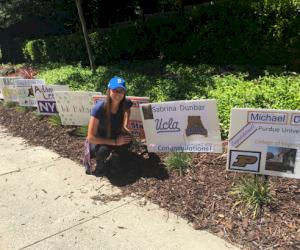 (Pictured - scholarship winner Sabrina Dunbar. Neighbors posted signs congratulating this year's graduates)
The Scholarship Program at McWane has had the honor of awarding 117 scholarships to children of McWane team members since its beginning in 2005.  Students receive $2,000 per year for four years.  We are pleased to announce the recipients of the 2017 McWane Scholarship below.

Child/Parent/Facility
Kortni Doane/ Darrell Doane/ Manchester Tank, Bedford, Indiana
Caitlyn Harper/ Gary Harper/ Clow Canada, Saint John, NB Canada
Kelcie Matney/ Rebecca Matney/ Tyler Coupling, Marshfield, Missouri
Randy Galaviz/ Ampelio Galaviz/ Tyler Pipe Company, Tyler, Texas
Miguel Lopez/ Miguel Lopez/ McWane Ductile, Provo, Utah
Sabrina Dunbar/ Francesca Dunbar/ AB&I Foundry, Oakland, California
Shannon Regula/ Jerry Regula/ McWane Ductile, Coshocton, Ohio
Alexandria Fulton/ Alan Fulton/ Amerex, Trussville, Alabama
Meagan Humphreys/ Cory Humphreys/ McWane Ductile, Coshocton, Ohio
Mason Rodgers/ Steve Rodgers/ M&H Valve, Anniston, Alabama

Congratulations and good luck to this year's recipients!