Anyone up for bowling?
June 25, 2015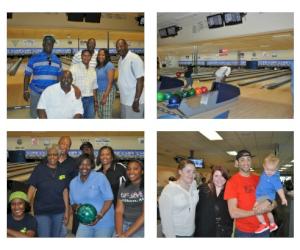 Tyler Pipe recently sponsored a friendly competition for team members at Green Ares Bowling Lanes in Tyler, Texas.  There were twice as many people in attendance this year as last year.   Walmart gift cards were awarded to the team with the highest average as well as the individual with the highest score.
The team with the highest average (130) at this year's competition was Heath Huffstetter, Gwen Jackson and Gary Jackson.  Gary Jackson also won the highest individual score of 162.  The top three bowlers from the second place team (Lucious Wilson, Charles Ross and Diane Newman) had a team average of 110 and also were awarded Walmart gift cards.
Everyone enjoyed pizza, cookies, soft drinks and lots of bowling and can't wait to do it again next year!