Anyone up for Zumba?
August 23, 2016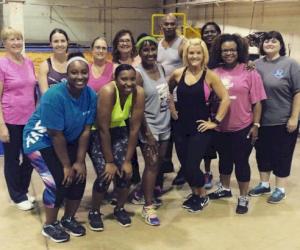 Tyler Pipe was impressed with all of the fitness activities that other McWane facilities were participating in and they wanted an innovative and fun way to step-up their game out there in Tyler, Texas.  So on Friday, August 19, they hosted their first ever Zumba Class.  Tyler HR Manager Faye Pettigrew invited her local Zumba instructor, Abby Worten, to come out and teach a class and it was well received indeed. 
We are pleased to report that 14 team members participated in the class which qualified as points for their Slam Dunk exercise participation.  As an added bonus, all attendees received free passes to attend one of Abby's classes at the local fitness center where she teaches regularly.  
The class was such a big hit that team members have asked if they can make this class a monthly event.  Abby stated on her Facebook post Zumba at Tyler Pipe!  "This was one of the most fun classes she has had!  So glad they invited me."  
Special thanks to Abby for visiting Tyler Pipe!