Are our children prepared to act in an emergency?
June 17, 2013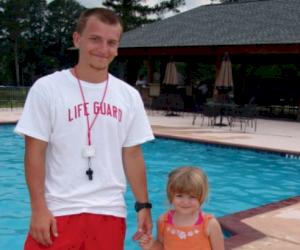 Lifeguard Nick Ferrebee and Katie Krieger
Three year old Katie Krieger was swimming with her parents and two sisters in a country club pool in Columbus, Mississippi the first weekend in June this year when the lifeguard noticed Katie under the water and jumped in to pull her out.  Witnesses said she wasn't under for more than 30 seconds, but she had turned blue.  The lifeguard cleared her throat and began chest compressions.  After a minute or so Katie regained consciousness and began to cough.
Katie's hero was Nick Ferrebee, son to M&H Valve team member Nicole Ferrebee and her husband, Rob.  It turns out that Nick had just gotten his Red Cross certification the year before and was into his second season working at the country club.
Nick graduated from Caledonia High School his year and is headed to ICC in the fall.  Little Katie calls Nick her superhero (just like Superman).  I think we'll all agree that he truly is a superhero!