Atlantic States Community Advisory Panel Hosts Scholarship Dinner
August 12, 2013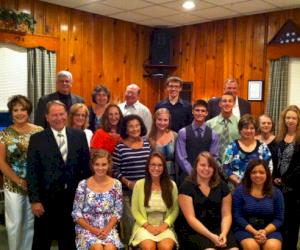 2013 Scholarship Winners and their Families
Every year the Atlantic States Community Advisory Panel (ASCAP) awards ten $2,000 scholarships to local students.  This year they chose eight students from Phillipsburg High School and two Warren County Vo-Tech students to receive scholarships.  This year's winners were Shane Fischetti, Marisa Gallagher, Carissa McQuade, Molly Zgoda, Catherine Decker, Zachery Fisher, Lauren Filleborn, Erica Roman, Amanda Russo and Andrew Cannavo.
On August 7, 2013, the ASCAP hosted a dinner in honor of the scholarship winners at Flynn's Restaurant located in Phillipsburg, New Jersey.  Family members joined the ASCAP in bidding farewell to the students before leaving for their first semester of college.
Congratulations to this year's winner and good luck at college!