Atlantic States Holds Quarterly Blood Drive
October 28, 2013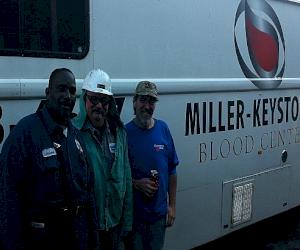 (Pictured from L-R: Bobby Alford, Bill Martin & Keith Henritzy)
Atlantic States held their quarterly blood drive on Friday, October 18.  There were a total of 28 registered donors and they collected 23 units of blood for Miller Keystone Blood Center.
Giving blood is a way of helping others and takes very little time.  For you it's just a few moments out of your day, but for patients in need, it may save their life. Despite medical and technological advances, blood cannot currently be made. The only way of getting hold of it is via blood donations from people who give blood.
Thanks to the Atlantic States team for your continuing efforts to contribute to the blood supply in the Phillipsburg, New Jersey community!