Atlantic States Hosts 2013 Family Day Event
October 15, 2013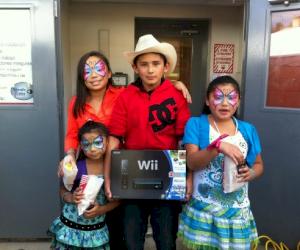 (Pictured: The Castillo family were the proud winners of the Wii gaming system and several games in the raffle)
Atlantic States was proud to host the 2013 Atlantic States Family Day event last Saturday, October 12.  Team members and their families were invited for a full-filled day of food, music and lots of fun!
Family members were provided a plant tour by both salaried and hourly team members so they could see how we make pipe.  After the tours, everyone enjoyed the good food, a live band, a caricature artist, face painting and lots of games.  A raffle was also held for a 40" LCD TV, a five burner gas grill and a Wii (including games).
During the event, free flu shots were available for team members and their families.  Over 115 team members took advantage of this convenient on-site service.
A good time was had by all and they have received great feedback from the team which will be helpful when planning next year's event!