Atlantic States Hosts Dinner for Elected Officials and Congressman Leonard Lance
June 26, 2013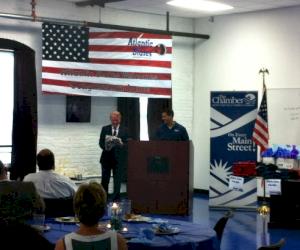 Atlantic States HR Manager Paul Carbo presents Congressman Lance with Eagle Hard Hat
On Monday, June 24th Atlantic States provided the venue for the Lehigh Valley Chamber of Commerce to host a dinner for elected officials including Congressman Leonard Lance, Phillipsburg Mayor Harry Wyant and New Jersey Governor James Florio. Atlantic States presented their signature eagle hard hat to Congressman Lance which signifies their number one priority and commitment…safety.
The Chamber of Commerce members were given a virtual tour of Atlantic States and plan to return in the Fall for a complete tour of the facility when temperatures are cooler.
Congressman Leonard Lance was elected to the United States House of Representatives in November 2008 and reelected to a third term on November 6, 2012 to represent New Jersey's 7th Congressional District.  As a result of the 2011 congressional redistricting process the 7th Congressional District now includes parts of Warren County where Atlantic States is located.