Atlantic States Joins New Jersey Adopt a Highway Program
July 15, 2013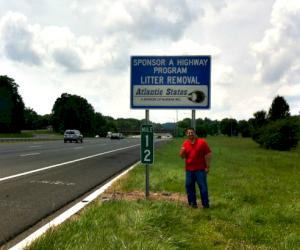 Pictured: Atlantic States HR Manager Paul Carbo
Atlantic States recently joined the Adopt a Highway program through the New Jersey Department of Transportation.  In an effort to keep the community clean and support an environmentally friendly atmosphere, Atlantic States adopted an entire mile of Route 78.
The Atlantic States sign is located on westbound 78, west of Pattenberg between mile markers 12-11.  This route is used by thousands of people every day and is the main highway coming from New York and New Jersey toward the Pennsylvania border where Atlantic States is located.
Atlantic States is proud to continue playing an active role in the community by volunteering countless hours to support the surrounding area.  At McWane, every day presents new opportunities for our team members to make a difference in someone's life.  McWane team members around the country volunteer and participate in meaningful activities that improve or assist the many communities where we all live and work.