Atlantic States Receives 2012 Community Impact Award
April 29, 2013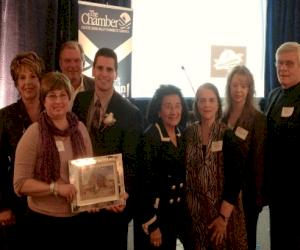 (Pictured from L-R: Anita Falvey, Michelle Bullock, Dale Schmelzle, Paul Carbo, Rosalie Finegan, Karen Stratos, Estelle Gehringer and Bill Spencer)
Atlantic States is the proud recipient of the 2012 Community Impact Award presented by the Phillipsburg Area Chamber of Commerce.  They were selected for this award because of their commitment to the community through programs that assist the needy as well as their Community Advisory Panel.  Both team members and CAP members attended an awards dinner to accept the award on behalf of Atlantic States.  Meg Dowd, Director of Phillipsburg and Easton Initiatives for the Greater Lehigh Valley Chamber of Commerce commented when presenting the Award, "The Phillipsburg Chamber feels that Atlantic States has done much more than help beautify Sitgreaves Street; you have helped the community grow by supporting us in so many ways.  Whether it is helping with the Old Towne Festival fireworks, the Annual Christmas Tree Lighting, the first ever Holiday Mart, volunteering on our Board, volunteering at community events or helping whenever asked, Atlantic States has truly had a remarkable impact on the community of Phillipsburg and we are grateful to have you here."
Through the Atlantic States Community Advisory Panel, Atlantic States (ASCAP) has contributed over $100,000 to the community, just in 2012.  Some of the community organizations/partnerships that the ASCAP supported in 2012 were Big Brothers Big Sisters; Make-a-Wish Foundation; Relay for Life; Rotary Club; Boy Scouts of America; Miracle League of North Hampton County; Joseph H. Firth Youth Center; Pohatcong History & Heritage Society; Phillipsburg Seniors Center; ASCAP Scholarships; Phillipsburg High School Marching Band Boosters; Pregnancy Resource Center in Memory of John Balian; Alpha Public School; Ole Towne Festival; American Legion; Lehigh Valley Autism Walk; Lopatcong 50th Year Celebration; and distributed 147 food gift cards during the holidays.
We are always proud to have the opportunity to supports the communities where our team members live and work.