Atlantic States Team Members Participate in Blood Drive
July 15, 2013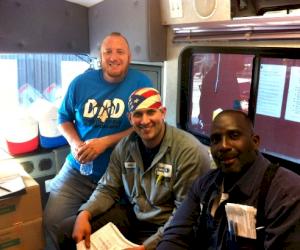 Pictured from L-R: Atlantic States team members Steven Guymon, Michal Ryno and Robert Alford)
If you had to really think about it to try and remember when you last gave blood then it's been too long.  Did you know that about one of every seven people entering the hospital will require a blood transfusion?  Unfortunately only about 3% of the population currently gives blood.
Motivated by a strong desire to help others, Atlantic States held a blood drive on June 21 where they collected 25 units which could possibly save 75 lives.  Thirty-four team members lined up eager to donate blood to help the Miller-Keystone Blood Center.
The team is planning another blood drive later this year on October 19.  Why not join the Atlantic States team and give blood at your local blood back today?  You'll be glad you did!