Atlantic States Team Members Pat Hennessy and Paul Carbo Walk in Support of Autism Speaks
May 7, 2013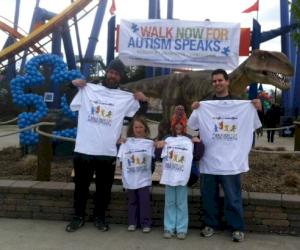 Pictured L-R: Pat Hennessy, Willow Hennessy, Caitlin Hennessy and Paul Carbo
Did you know that the U.S. Centers for Disease Control and Prevention reports that around 1 in 88 American children have some form of autism?  Unfortunately, every 20 minutes another family will receive the devastating news that their child has autism.  Chances are you know or have known someone that has a family member that has been diagnosed as having autism.  Bob and Suzanne Wright, grandparents of a child with autism, formed an organization called Autism Speaks in 2005 which has grown into the world's leading autism science and advocacy organization, dedicated to funding research into the causes, prevention, treatments and a cure for autism.
Since its formation, Autism Speaks has awarded $225,000 to 113 camps across the country to provide scholarships for financially disadvantaged children and young adults with autism.  One way that Autism Speaks raises money for these scholarships is the annual "Walk Now for Autism Speaks".  Atlantic States team members Paul Carbo and Pat Hennessy, along with Pat's two daughters, Willow and Caitlin, recently had the opportunity to participate in this event in New Jersey.  These fun-filled, family friendly events will fund vital research that will help lead to answers they need about how to treat/prevent autism.
We are proud that Paul, Pat and the girls took time out to participate in this year's event!