Beauty is in the eye of the beholder
May 9, 2017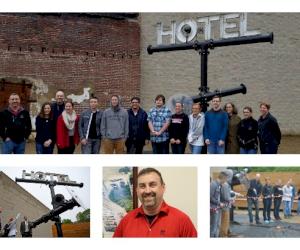 They say beauty is in the eye of the beholder, but most of us just think of the products we produce every day as safe and reliable. But a group of students in Coshocton, Ohio have an eye for finding beauty in the most unlikely places.  McWane Ductile Ohio (MDO) recently had the opportunity to collaborate with Art Connects to create an interactive art display named Looking Tubes which can now be seen in downtown Coshocton.Art Connects is comprised of high school students that brainstorm on interactive art pieces which are made using materials furnished by local businesses.

For their recent project, the students wanted to make a kaleidoscope, telescope and shadow art piece and MDO was happy to provide the material and labor to make their ideas a reality. Many individuals at MDO participated in the project and played a part in bringing the student's concept to life. When pencil met paper however, Technical Services Manager, Cory Humphreys (pictured bottom center), generated the final design incorporating MDO's pipe and fittings to create the students' artwork design.

MDO team members Heather Rainwater, Cory Humphreys and Mary Jackson (student and daughter of MDO's Customer Service Representative Mary Jackson) were on hand Friday, May 8, 2017, for the unveiling and ribbon cutting and it is a beauty.