Bibby Ste-Croix Hosts Team Luncheon
August 13, 2013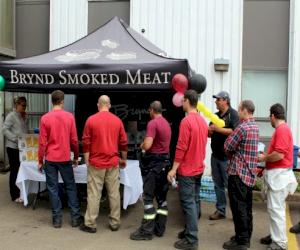 On July 25-26, 2013, the Bibby Ste-Croix team members were invited to share a smoke meat lunch in appreciation for all of their hard work prior to the summer vacation period.
Brynd Smoked Meat catered three different events to accommodate the different shifts:  Noon for the day shift and office team members, 10:30 p.m. for the night shift team and Fir-day for the team members working the weekend shift.
Everyone got plenty to eat and enjoyed celebrating the upcoming summer vacation together!