Cahaba River Society names Amerex 2017 Corporate Friend of the Year
February 1, 2017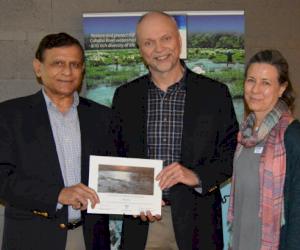 (Pictured from L-R: Jeet Radia, McWane, Vic Modic, Amerex and Beth Stewart, Cahaba River Society)
Part of the work of the Cahaba River Society (CRS) is to bring communities together through stewardship. Much of this is achieved through restoration projects.  Amerex has been a generous sponsor, team leader and supporter of the annual CRS Fry-Down which is their largest fundraiser every year.  Amerex's enthusiasm and spirit, investment and involvement have been the key ingredient to making each year better than the last and without their dedication and support this would never have been possible.

We are pleased to announce that the Cahaba River Society named Amerex the 2017 Corporate Friend of the Year.  A lot of behind the scenes hard work goes into this event every year.  To prepare for the event, Amerex line workers spent three hot days last September working incredibly hard clearing brush and generally sprucing up the New Moon River access point on the Cahaba Blueway near Leeds.

Congratulations team Amerex for this well-deserved recognition.