Canada Pipe Announces the Winners of the "Make a Statement" Contest
October 2, 2013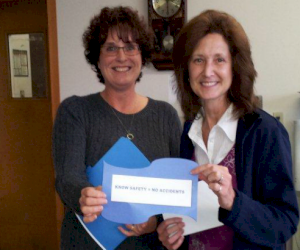 (Pictured from L-R: Lianne Rouse, Manager of Health & Safety and Contest Winner Cheryl Knapman)
The Joint Health & Safety Committee for the Canada Pipe Hamilton location sponsored a Health & Safety BBQ to announce the winners of the "Make a Statement" contest.  What kind of contest is that you ask?  It's a contest where team members have an opportunity to come up with a STATEMENT that best reflects the positive health and safety attitude of team members in the Hamilton location.  There was no limit to the number of words team members could use, but the STATEMENT had to incorporate both health and safety aspects into the theme.
The healthy lunch consisted of a variety of salads along with veggies and dip, BBQ turkey and chicken sausages as well as grilled chicken served on whole wheat buns with all the fixings and loads of watermelon for desert.
We are proud to announce that Clow Canada's Cheryl Knapman came in first place with her entry Know Safety = No Accidents, which will proudly be displayed on a banner in the plant area.  Debra Green was the runner up with the entry Plan/Prepare/Prevent.  The winners were determined by a panel of judges that included Dan Ferraro, Les Kay and Rob Tomlin and prizes were awarded to the winners.
Congratulations Cheryl and Debra for your winning entries!