Canadian Team Members Kick off EHS/HR Awareness Month with a BBQ
June 23, 2015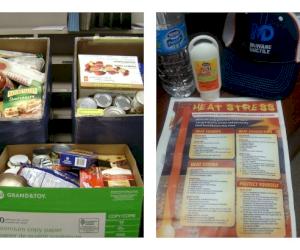 To kick of the McWane EHS/HR Awareness month, the Hamilton location of Clow Canada, Canada Pipe, Bibby and Wade hosted a team BBQ.  While enjoying lunch team members watched a video by McWane President Ruffner Page about the purpose of the event.  The message was well received and listened to thoughtfully by everyone.
Someone from every department, including hourly and salaried team members, pitched in to help with set-up and clean-up of the warehouse lunchroom.  With the summer months upon us, this was also a good opportunity for them to hold the Hamilton Food Share food drive as part of their community awareness.  During lunch they revisited the heat-stress policy and reviewed the signs of heat-stress and how to stay safe in the summer heat and sun.
Attendees were presented a goodie bag complete with a sample size sun screen, a water bottle, a hat and a Sign's of Heat Stroke poster that can be posted in their lockers, in the lunchrooms or taken home for reference.
We are pleased to report that they collected over 80 pounds of grocery goods and a total of $1,155 in cash donations for the food drive.  Clow Canada and Canada Pipe both contributed checks of $500!  Each and every dollar is important and with the added value of being worth 5X the actual dollar value – FOOD SHARE was extremely appreciative!