Check Out This Product Sighting!
July 6, 2015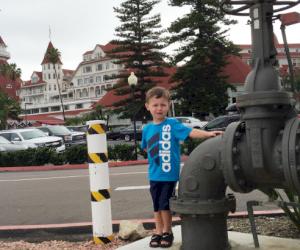 Tyler Union Sales Representative Greg Adams and his family were visiting Coronado Island, California, which is the same island where Navy SEALS are trained, when he observed this Tyler Union 10" flanged 90 bend, connected to a Kennedy valve, next to the Hotel Del Coronado.
Greg was about to snap a picture of his three year old son Jordan standing with the domestic made fittings when he noticed the American Flag flying in the background, so with a slight change of camera angle the results were perfect!
Greg said, "This one bleeds Red White and Blue!"