Clow Canada donates $4,000 to local soup kitchen
December 23, 2016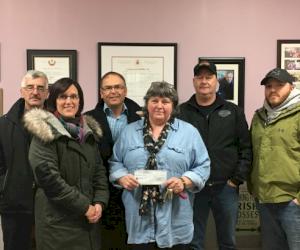 Photo L-R Ken Matthews, Natalie Raymond, Rick Benoit, Evelyn McNlty (Romero House), Dickie McGuire and Chris Arsenault
Clow Canada staff and members of Local 835 IAM raised $2,000.00 and the company matched dollar for dollar for a total donation of $4,000.00. Money was raised all year through donations from employees and selling recyclable bottles, cans and scrap wood. Over the past 6 years Clow Canada has donated $19,000.00.
"The whole team at the Saint John plant came together throughout the year to make generous donations and came up with creative ways to raise money for Romero House. This shows our continuing commitment to the Saint John community. Unfortunately Saint John has the highest child poverty rate in Canada and only strong community support can fix this problem" Rick Benoit – V.P. General Manager
Romero House operates a soup kitchen giving out 400 meals per day, a clothing bank, emergency family assistance, outreach, chapel, health care room, life skills support and a mobile unit that travels around the city at night giving coffee and sandwiches to the homeless.