Clow Canada holds EHS/HR Rededication Day
July 7, 2016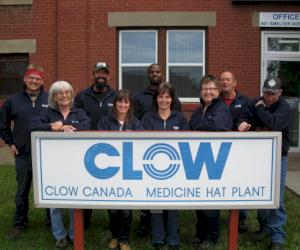 On June 17, the Clow Canada distribution facility located in Medicine Hat, Alberta held an EHS/HR Rededication Day.  Team members stopped work at noon and were treated to their favorite lunch, KFC.  Two guest speakers discussed mental health, anger management and stress management and informed the team where help is available in their area. 
After a representative from the Children's Wish Foundation talked about their mission, Plant Manager Lorne Rissling presented her with a $250 donation.  A $250 donation was also given to the Medicine Hat Health Foundation.
After lunch, peer reviews of all workstations were conducted and improvements in safety ergonomics, environmental and 5S were identified.  The day ended with a fun competition of goofy golf with shortened hockey sticks.  Veronica Marr and Dave Denney were the goofy golf winners and everyone received a Clow Canada sweatshirt.