Clow Canada Lends a Helping Hand to Local Soup Kitchen and Food Bank
January 12, 2016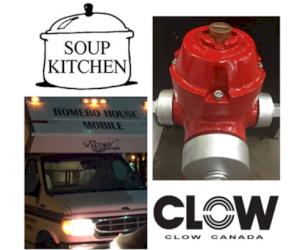 On December 23, 2015, Clow Canada representatives delivered a check to Romero House, a local soup kitchen and food bank in their area that serves hot meals to about 300 people each day.  Every year Clow Canada makes a donation to this organization to assist them in helping the less fortunate in the community.  In 2015, the city of Saint John, where Clow Canada is located, tied Toronto Canada for having the highest child poverty rate in Canada at 29%.   
Romero House also has a mobile unit that delivers hot food and drinks to the less fortunate.  Donations from organizations, like Clow Canada, help keep this mobile unit running. 
Throughout the year, team members donate money by dropping it in the designated hydrant "piggy bank".  At the end of each year, Clow Canada matches the funds donated by team members.  This year $1,900 was collected in the hydrant and a check for $3,800 was donated.