Clow Canada's James Graves Shares his Talent with the Team
February 3, 2015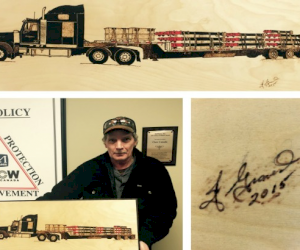 James Graves works in the Shipping & Receiving Department at Clow Canada and has been with the company for 36 years. What most people might not realize is that James is very talented in creating wood burning art, also known as pyrography.
James made this picture using a piece of plywood and a wood burning iron.  He said that he has enjoyed making wood burnings since he was a small child.  This is a picture of an actual load of hydrants being shipped from Clow Canada in Saint John New Brunswick to Medicine Hat Alberta in January 2015.
James indicated this particular picture took him about 12 hours to complete and will be proudly displayed at Clow Canada.
Thank you for sharing this beautiful picture with the team James!