Clow Corona holds Open House for distributors, customers and end-users
April 11, 2017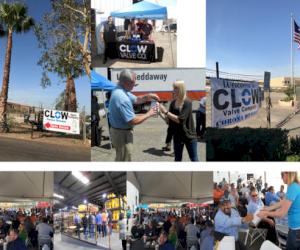 On April 5, Clow Corona held their first Open House/Customer Appreciation Day since 1997. They opened their doors to distributors, customers and end-users (cities/municipalities) and had an amazing turn out from their southern California customers.  Approximately 175+ visitors attended the open house, some even arriving an hour before their expected start time of 9:00 a.m. 

All team members participated in the event and the production team took pride in showing how they provide the world with life sustaining water products through service and manufacturing excellence. Guests were treated to world famous In-N-Out Burgers and enjoyed competing for a long list of raffle prizes provided by Clow Valve, M&H Valve Company, McWane Ductile and Tyler Union. 

Clow recently initiated a cultural alignment at their facilities in Oskaloosa, Iowa and Corona, California and the open house was a way to showcase their past, their present and their plans for the future. It also gave them an opportunity to introduce customers to their new mission, vision and values.

Thanks to all the team-members that made this experience one for the books.  They are already looking forward to the next open house.