Clow Valve Holds 2013 Team Golf Outing
July 25, 2013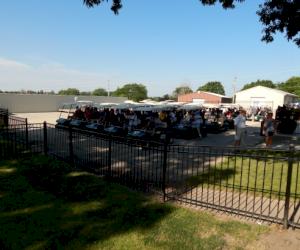 Team Members Get Ready for Shotgun Start
On July 20, 2013, Clow Valve held their 2013 Golf Outing at the Oskaloosa Golf Course. There were 44 vendor/hole sponsors, of which 33 played in the outing. Clow had 54 team members that played including a few retirees. Sponsors donated gifts and there were several prize drawings. Clow made sure golfers kept their strength during the rounds by providing burgers and brats.
It was a beautiful day to be on the course and the competition was fierce! Golfers competed to see who could get "closest to the fire hydrant" and they also held a longest putt and driving contest. There was even a contest to see who could hit the marshmallow the farthest.
Much like the jobs we do every day at McWane, golf is about discipline and remembering to do the right things at the right time in order to hit that perfect shot that keeps you coming back week after week to play again.