Clow Valve Holds PIT Rodeo
June 22, 2015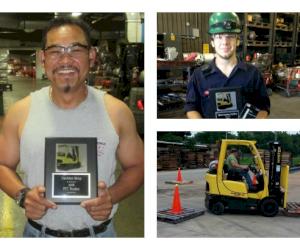 As part of McWane's EHS/HR awareness month, Clow Valve in Oskaloosa, Iowa held a "PIT Rodeo" competition and roughly 40 authorized operators joined in on the fun. The object was to move a pallet that had an orange cone topped with a tennis ball around a course of other pallets with orange cones topped with tennis balls. Participants would loose and gain points for loosing tennis balls, hitting pallets, and operating safely among other things.
Everyone that participated really enjoyed the competition and one winner was chosen from the Metal Casting Facility and the Machine Shop to receive a plaque and a $50 VISA card.
Thanks to those who participated and contributed to the event!