Clow Valve honors team members at service awards dinner
June 15, 2017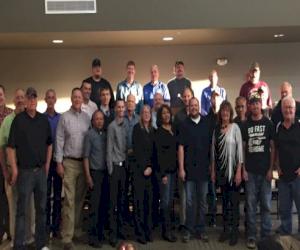 This spring, Clow Valve celebrated 61 total team members with years of service ranging from five years all the way up to forty years. To recognize these team members, Clow held a service awards ceremonies in Oskaloosa, Iowa, Corona, California, and Nashville, Tennessee. Introducing the 2017 Clow Valve service award recipients:

Retirees: Bert Miller, 45 years and Lyle Vanderhorst, 40 years
40 Years: Karen Harrism, Kathy Swim, Dwight Proctor, Dennis Moyer, and Terrence Bihn
35 Years: Michael Vore
25 Years: Eddy Simpson, Jeff Shivers, Robert Bateson, Robert Kelly, Gerald Eaton, Bryan Brees, and Andrew Koger
20 Years: Rene Perez, John Lanser, Sombat San, Gerald Butz, Deborah Stephan, Ed Murphy, and Chris Stanley
15 Years: Dan Reinhard, Chris McDougall, Jim Nelson, Steven Baker, Rick Smith, Maria Brewer, Jon Callahan, William Kuehl, William Hunt, Justin Dell, Michael Cochran, Robert McNutt, Alfonso Zamorano, and Robert White
10 Years: Anita Sawyer, Linda Welliver, Don Schimmelpfennig, Larry Jack, Knut Reimann, Gabriel Chavez, Christopher Prendergast, and Richard Ledesma, Jr.
5 Years: Arturo Islas, Tiffany Smith, James Nelson, Kyle Huelsman, Lee Jones, Paul Kerkove, John Phillips, Heather Shaw, Cody Scholtus, Brent Cox, Benjamin Berg, Matthew Randall, Jimmie Teeter, Anthony Borror, Chad Zugg, Nhoeuy Ches, and Nicholas Findley

The Clow Corona team held their awards banquet on March 22 at TAPS Fish House and Brewery in Corona, California. Several members from the Clow Oskaloosa team joined the Clow Corona team for the event. With nearly 25 team and family members in attendance, the group enjoyed a night filled with great food and even better company.

On April 22, approximately 70 Oskaloosa team members, friends and family came together at an awards ceremony held at the Musco Technology Center on the William Penn University Campus. The evening consisted of a delicious meal and dessert catered by Sodexo, and team recognition by Clow general manager Mark Willett and chief talent strategist Tiffany Tremmel. Awards were handed out and supervisors took the opportunity to personally thank each team member for their dedicated service.

Clow also recognized the anniversaries of six sales team members on May 4 at the 2017 McWane Valve and Hydrant Group National Sales Convention at the Hermitage Hotel in Nashville, Tennessee. Highlights of the week included a hydrant hysteria competition, a team dinner at the Country Music Hall of Fame and a bowling event.  The focus of the sales meeting was to update the sales team on new products and engage in growth strategies with the engineering and management teams.  Having the opportunity to spend time with co-workers and friends gave the sales team a sense of comradery and energy as they move forward to promote and sell the best products in the waterworks industry.

This was the third annual awards banquet at Clow and they look forward to the opportunity at this event every year to thank team members for their commitment, service, and loyalty to the company. Without our team members, we would not be able to fulfill our mission and vision to the world: to be the world's leading resource for water works products and premier place to work and do business, and provide the world with life sustaining water products though service and manufacturing excellence.