Clow Valve participates in Investing in Tomorrow's Workforce event
April 17, 2017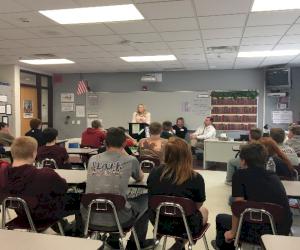 On April 12, Clow Valve partnered with the Oskaloosa Schools in Oskaloosa, Iowa at an Investing in Tomorrow's Workforce event sponsored by IowaWORKS. Local business professionals in 13 different career industries were on hand to share their knowledge and insight to over 900 students in grades 8-12. Prior to the event, students filled out a survey to select the top 4 industries they would like to learn more about. Among those 13 industries was advanced manufacturing.

Breonna Nimtz (Human Resources Clerk) represented Clow Valve Company in the Advanced Manufacturing industry sessions. Human resource representatives from Interpower Corporation, also located in Oskaloosa, as well as Vermeer located in Pella, Iowa were a part of the advanced manufacturing sessions. In these sessions, the companies talked about their industries, the type of jobs offered and education and skills required for those jobs. Many students in these sessions showed particular interest in careers in skilled trades and manufacturing including welding, robotics, machining and maintenance. Approximately 250 students attended the advance manufacturing sessions.

The goal of the Investing in Tomorrow's Workforce event was to show high school and middle school students (our future workforce) the great career opportunities that are not only available locally but can provide a sustainable living wage for their families in the future. This was also a great opportunity for students to start thinking about how they can utilize their interests and skills and turn them into a long lasting career.