Clow Valve Provides Team Tours of Metal Casting Facility and Machine Shop
June 22, 2015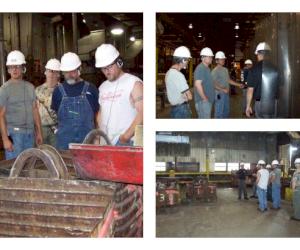 Last week, team members at our Clow Valve facility in Oskaloosa, Iowa had the opportunity to see some areas of the facility that they do not often get to visit.  Clow has a metal casting facility and a machine shop and while they are close in proximity to one another and team members are familiar with the area in which they work, they rarely have the opportunity to tour the area where they don't work.
As part of the EHS/HR Awareness initiative this month, team members of the machine shop toured the metal casting facility and the metal casting team got to tour the machine shop. Everyone involved enjoyed the experience and gained a whole new appreciation for what is involved in the other part of our operation.
Thank you to those that participated and contributed.