Clow Valve recognizes 2017 graduating seniors
June 7, 2017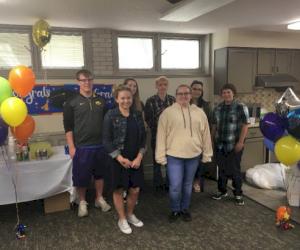 Pictured from L to R: Andrew Stanhope, Payton Hynick, Tessa Troxel, Malachi Davis, Madison Braden, Odessa Menefee, and Sydney Sanders
On May 22, Clow Valve hosted the 2nd Annual Graduating Seniors Luncheon to recognize the 2017 graduating seniors. At the luncheon the recent graduates and their families came together to celebrate their accomplishments and share their plans for the future.  After a delicious catered lunch and graduation cake, General Manager Mark Willett read the popular Dr. Suess book, Oh! The Places You'll Go, to graduates, highlighting the important lessons that can be learned from the book, no matter what age – like life is an adventure, so always try new things and seize any new opportunities that comes your way.

Congratulations class of 2017.
Proud Clow Family members of the graduates: Bill Lewis, Ryan Hynick, Kylanna & Casey Champ, Richard Thomas, Aaron Menefee, and Jason Sanders.