Clow Valve recognizes local educators
July 9, 2018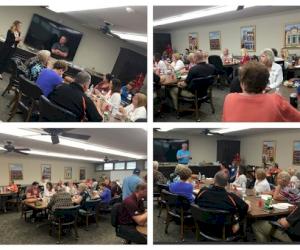 Teachers are extremely important in our lives and the lives of our children and grandchildren and Clow Valve in Oskaloosa, Iowa wanted to recognize their commitment and dedication.  In May they hosted a Teacher Appreciation Luncheon at the Oskaloosa Elementary School for nearly 150 teachers, associates, and staff.

In June, a group of educators in southeast Iowa (including Indian Hill Community College, and other area high schools) toured various businesses, listening to presentations and receiving information that will provide them with tools to assure that middle school and high school students are being taught the necessary skills to prepare them for the workplace of today and tomorrow. The goal is to focus on the future of content of technology and the needs of the changing workforce, and bring exposure to educators about the type of jobs that are available for students after they graduate.

Clow Valve Company was one of several area employers to participate in the tours. The group toured the Clow Valve Metal Casting Facility and Machine Shop and saw firsthand the day-to-day operations and the role technology plays in our processes.  After the tours, Clow hosted an interactive presentation and luncheon where educators discussed the necessary skills, qualities, education, experience, and soft skills Clow is looking for in their future workforce with Chief Talent Strategist Tiffany Tremmel, General Manager Mark Willett, and National Sales Manager Steve Werninger.

Clow Valve Company welcomes the opportunity to speak with educators and schools about the industry, and the future of careers in manufacturing. We deeply appreciate the contributions and investment of teachers and educators to our children's futures, the school districts, and the surrounding communities.