Clow Valve Sponsors Community eCycling Day
April 22, 2013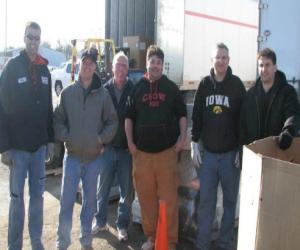 (Pictured L-R: Jon Callahan, Dain Netland, Doug Stracke, Steve Fowler, Brian Box and Kyle Silvey)
On Saturday, April 20, 2013, the Mahaska County residents were provided the opportunity to recycle their old electronic equipment in a safe and secure manner.  Clow Valve Company, in cooperation with Mahaska Communication Group (MCG) and Midwest Sanitation and Recycling, organized a Saturday morning event called "e-Cycling Day".
The residents of Mahaska County were notified in advance that they could drop off any outdated electronic equipment such as computers, computer monitors, video game systems, stereos, keyboards, printers, VCRs, cell phones and laptops to be recycled free-of-charge.  Businesses however were charged a fee to recycle their electronic equipment.
Within four hours the community had donated approximately 50,000 to 60,000 pounds of electronic equipment to be recycled according to Scott Ewing, Mahaska Communication Group.  The outdated electronic equipment will be recycled to make plastic, paper and glass, as well as metal.
At McWane, we're no strangers to recycling. In fact, in a given year, our foundries will recycle nearly 800,000 tons of scrap iron, along with nearly 50,000 tons of other foundry materials, including sands, slag and cement. An additional 11,000 tons comes from non-foundry recycling of scrap metal.
This event is yet another way that we can help to protect our environment.  Thanks to everyone at Clow Valve for making this event a success.